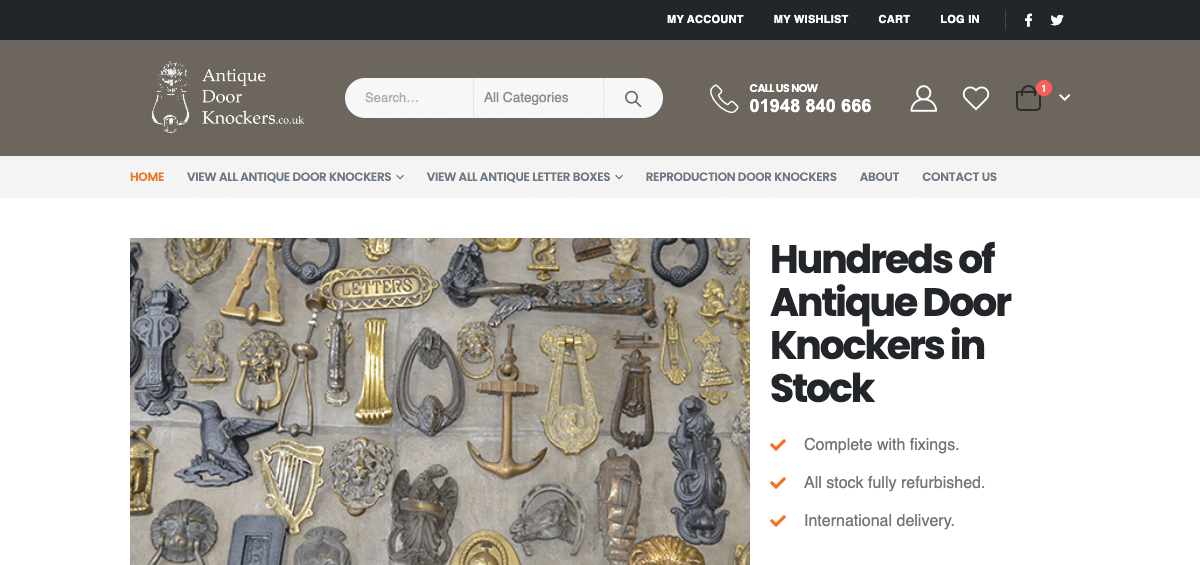 Antique Door Knockers was build on one of the older Woocommerce templates and over time became unsupported. As WordPress and Woocommerce were updated, the template eventually needed changing. The website owners were keen to stay as close to their existing website as possible, but to improve the UX and responsiveness. As a result we made sure to find a good premium template that could be made to match their existing design as much as possible.
With a redevelopment task it is always important to stay aware of the SEO of the website and the ongoing rankings in search engines. With this in mind we cloned the existing website on to our development server and installed the new theme, setting it up over the top of the existing content. This ensured that all permalinks to products remained the same, and that we were just changing the look and feel without effecting their SEO juice. We made sure to match widgets on the front end to retain all internal link structures, and fixed all parts of the website that were hard to manage.
Previous developers had coded content in to page templates and used other various techniques to display products on the front page that were hard for the admins to manage. While redeveloping the website we made sure that all aspects of editing the website was in the hands of the admins, and with minimal effort to ensure that managing the website is easy and quick.
Once the website was completed and tested we gave the development link to our client, allowing plenty of time to look at their feedback and address any amendments. After this we synced the Woocommerce orders and pushed the site live. As with all our clients we made sure that we were available to answer queries after launch to ensure a smooth execution and hand over.
View this Website